You can buy Swedish links from us
You can and should buy your links from us, i.e. SEO-texter.se. We own a few authoritative websites ourselves, and we also offer authoritative links which we buy from Swedish webmasters on your behalf. We take a small commission for the text and the link mediation, but that fee is considerably lower compared to our competitors.
If you're interested in buying links, please contact karl@seo-texter.se. We currently provide links from over 110 pages and our network of cooperating webpages is growing continuously.
Is buying Swedish links "worth it"?
Yes, you must have authoritative links from prominent Swedish webpages in order to rank well in Sweden. Buying links from Swedish websites with dirty and/or deceptive backlink profiles is a pure waste of money, and so is posting spam links on forums and comment fields.
So, make sure you'll buy links from "real" web pages in order to get the most visibility for the least amount of money.
Visiting pages like Fiverr.com or similar "gig" websites with the intent of buying "strong" (i.e. dirty) backlinks is always a bad idea.
Google has already marked these pages as spam, so in the best-case scenario, nothing happens, and in the worst-case scenario you'll need to perform a manual disavow in order to be on Googles good side again.
6 tips for buying links from Swedish websites
Buy links from strong (authoritative) pages.
Buy links from relevant pages.
Place the link to your article at the top of the page.
Use a suitable anchor text (and vary the anchor text).
Make sure the link is marked as dofollow.
Direct the backlink to an important article.
Below we´ll tell you more about the tips just mentioned in greater detail.
1. Buy links from strong and trustworthy webpages
In order to measure the strength of a particular web page, we´ll recommend that you´ll use a SEO tool like Ahrefs.com in order to find out what domain rating (DR) the web page has.
Generally speaking, the higher the DR the better, but please note that some webpages use spam links in order to make their pages look more authoritative. You should stay away from those pages, and we do not offer links from any of those pages.
2. Buy links from relevant webpages
Its a good idea, but at the same time not a must to buy links from webpages within the same niche as your webpage(s).
Buying links from relevant pages gives you more "link juice", but buying links from sites outside your niche is generally also a good idea. Mostly because it's easy to build relevance if your writing team is creative enough.
As you can see below, you still get a lot of link juice when buying links from sites outside your niche. Not as much, but enough to make a difference.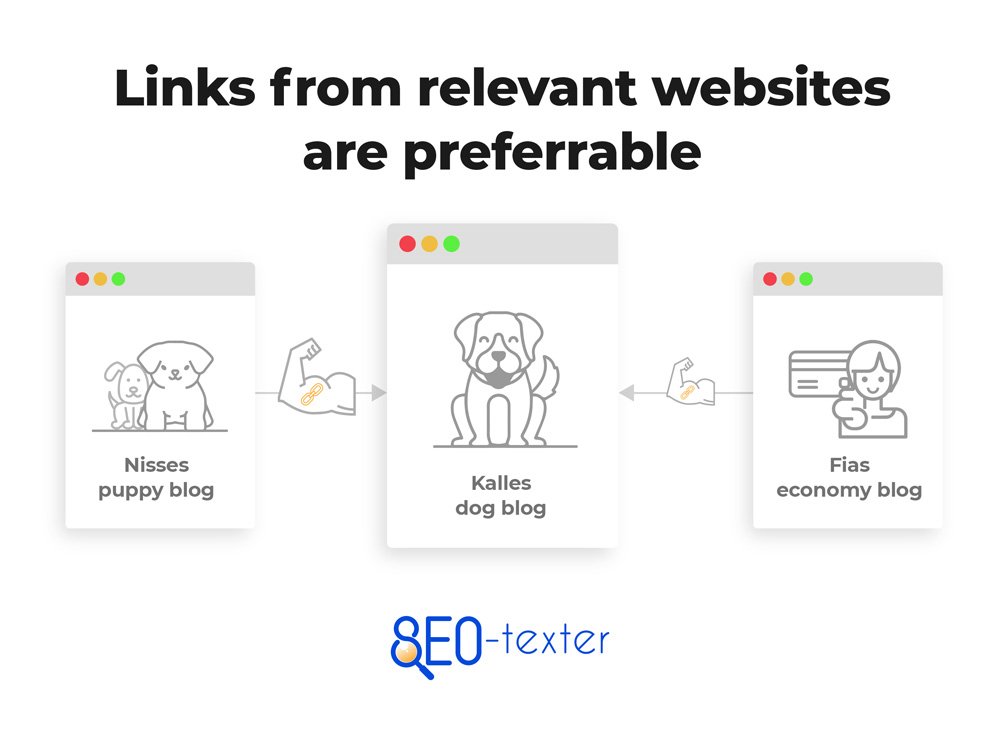 So if you own a blog about dogs and want to purchase a link from a tech site, it is a good idea to customize the article like we´ll show you below.
And with the same dog blog, you can even get a lot of link juice when buying links from building and construction blogs, as long as you customize the article in a correct manner.
3. Your link should be placed on top
Its almost always possible to format the article in a way that your link appears at the top very of the page. So if it is possible to include a link from the top of the page layout-wise, make sure the link to your webpage can be found there.
The reason for that is that links that are placed at the top of articles gives you a significantly higher SEO boost compared to links that are placed further down in the article.
4. Use an appropriate anchor text
Using a well thought out anchor text are important.
So if a link to your web page has the anchor text:  "Good casinos in Sweden", then Google thinks: "Aha! That page must be about casinos niched for the Swedish market. That means that we (as in Google) should make that page a little more visible for those keywords!"
Its also worth mentioning that its easy to over-optimize for important keywords you want your article to rank for. So please note that Google almost always notices if you acquire links with an overly aggressive anchor text ratio.
5. Dofollow is better than nofollow
Links marked rel="nofollow" will give you an extremely small SEO-boost at best, but most likely you won't get any link juice at all. You should therefore make sure you´ll only buy dofollow links, i.e., "regular links" that will give your website the most link power.
The nofollow attribute acts like a big stop sign that says: "We don't trust the webpage we're linking to, so don't give that webpage any link juice!"
6. Make sure the link points to an important article
It is a good idea to make sure that the link you´re buying points towards one of your websites most important pages.
As you can see below, you´ll need (according to Ahrefs) links from about 113 pages to rank well for the term "casino sverige (casino in Sweden)."
The term "online casino" is even harder to rank for in Sweden. As you can see below, a page with "online casino" as the main keyword need links from approximately 235 websites to rank well in Sweden.
So, all in all; buying links is often a necessity, even if the niche mentioned above are an example for an extremely competitive niche.
Do you need to buy links to succeed in Sweden?
In order to succeed in niches like affiliate marketing or as an online casino service, then it is basically a necessity to buy Swedish links. No matter how good your published material is, there's no way you'll get enough "natural" links through efforts like outreach.
As you can see in the image below, you can add links on other people's web pages.
I.e. on places like link directories or on places like the comment field for Apache.com.
But is it a good idea to add those kinds of links?
No, not at all.
Adding a dirty link from Apache's message board or the like means nothing. In the best-case scenario, Google will act like the link doesn't exist, and at the worst-case scenario you'll receive a manual punishment for Google, but that's unlikely though.
Is asking for links worth it?
No, asking for links is usually not worth it. Extremely interesting and well-written (ie expensive) content is required in order for someone to choose to link to your web page.
And if a certain webmaster already links to one of your competitors' articles, she will basically never link to you as an additional resource or exchange the competitor's link for a link to your website.
Approximately 99% of all Swedish webmasters know that links are a commodity and will require money in order to link to your website.
So no, asking for Swedish links is worth it, but buying Swedish links is.